The place where Paul and Peter were imprisoned in Rome.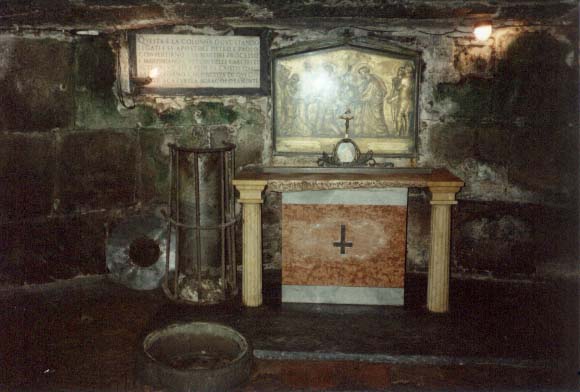 The Mamertine Prison
The place where Paul and Peter were imprisoned in Rome.
It is assumed that Paul wrote 2 Timothy during his second imprisonment in Rome during Nero's reign. During his first imprisonment he was confined to house arrest – an honorable imprisonment accorded to prisoners of high status or to citizens accused of non-serious crimes. This time he was in a dungeon, where Onesiphorus had to search diligently to find him [[2 Tim. 1:17]. Because Paul was being treated like a common criminal, many were ashamed of him and of his chains [v. 15], and no longer wished to be associate with him; lest it soil their good names in society.
Indeed, it would be as if today someone were in jail for treason against the United States for plotting rebellion. The charges against the Christians, of whom Paul was one, included sedition, being a superstitious cult that practiced cannibalism, sexual orgies, hatred of the human race, and the like. Since rumor and gossip stirred the populace, and since there was nothing like objective reporting or newspapers to tell the other side, popular perception carried the day. And if Christians were slandered, the majority of the people believed the gossip. We can see why people were afraid to be associated with Paul and his ministry. The Roman government had called this new sect an occult, "new age" [my modern equivalent], secret society that drank human blood and which was trying to overthrow the government. People were actually ashamed of Christ and of the Gospel because of Paul's imprisonment, and they no longer wanted to be known as Christians for fear they might suffer the same treatment. So many deserted him.
At my first defense no one took my part; all deserted me. May it not be charged against them! (2 Timothy 4:16; see also vs. 9-13).
---
Before you enter the prison, there is a long list of Christian martyrs who died in the prison. When we walked down into the dungeon, the rats scurried. Although it was mid-summer, it was dark and damp. Paul asked Timothy to come quickly:
Do your best to come to me soon… When you come, bring the cloak that I left with Carpus at Troas, also the books, and above all the parchments. (2 Timothy 4:9-13, RSV).
And now I know why he asked for the cloak – Paul was always cold, and he was old. He could never get warm – not because it was so cold, but because he could never dry out.
– Jefferis Kent Peterson, I